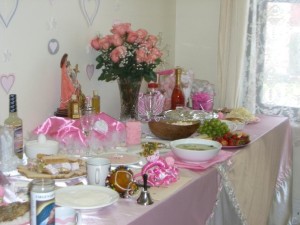 Mambo Chita Tann (Mambo Tamara, or "Mambo T") has been a mambo asogwe of Haitian Vodou since 2001, when she went through the kanzo initiation with a Vodou sosyete located in Jacmel, Haiti. In 2004, Mambo T was granted membership in another Haitian sosyete: the respected Sosyete La Fraîcheur Belle Fleur Guinea (SBFG) of Mambo Marie Carmel Charles of Petionville, Haiti; Long Island, New York; and New Orleans, Louisiana.
In January 2006, Mambo T became asogwe in the SBFG family after a second kanzo at Sosyete Sipote Ki Di, a historical Port-au-Prince peristyle jointly administered by Mambo Marie and Mambo Fifi Ya Sezi. At baptism, Mambo T was honored with the public name Chita Tann, a name that has been passed down through several prominent mambos in the lineage.
Mambo T has more than 25 years of experience as a teacher, author, and lecturer on African religions. She is a professional Egyptologist, a doctoral student in religion, and the founder of the Kemetic Orthodox Religion (a modern form of ancient Egyptian spirituality) in addition to her Vodou work. She considers Vodou not to be her religion, but a spiritual and magical calling in honor of Haitian and Native American ancestors. Mambo T's students come from all ethnic backgrounds, religions, and walks of life. Her first book on Haiti and Vodou, entitled Haitian Vodou: An Introduction to Haiti's Indigenous Spiritual Tradition, was published in January 2012.
La Sosyete Fòs Fè Yo Wè ("Strength Makes Them See Society"), known as La Sosyete Kouwone Andezo ("Crowned in Two Waters Society") from 2001-2006, was founded to accommodate Mambo T's altars and a growing number of students and initiates. The sosyete's home temple (or houmfort) is located at Mambo T's home in the Pacific Northwest, and the society currently has priests and/or satellite houmforts in Chicago, Denver, and New York. Membership in Sosyete Fòs Fè Yo Wè is by invitation only.